I first began delivering Active Maths and English lessons within my role as PE Advisor for Wirral Local Authority.
This new way of delivering such lessons certainly worked and soon enough schools locally were also keen to introduce active lessons – most being motivated by the obvious 3 benefits which schools were reporting, and which lead to one schools inclusion in an Ofsted Sharing of Goof Practice Paper and being part of a DfE International project
Benefit 1) Raising levels of activity
Benefit 2) Improving attitudes to learning
Benefit 3) Increasing attainment
Fast forward to present day and there is a very clear and obvious 4th benefit which is now a staple part of all of our presentations and workshops
4) Children's mental and emotional well-being Perhaps now even the strongest benefit – the reason we all entered the profession of teaching – simply to develop the whole child!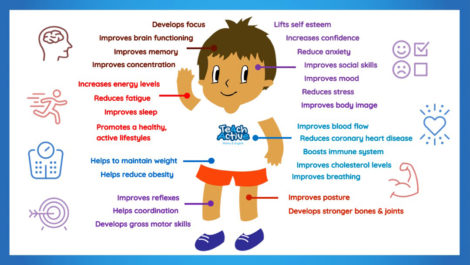 It is now well recognised that 'Active Children do better' and that physical activity can support and develop children in so many ways – socially, emotionally and mentally – and through activity help them to flourish, be happy and reach their full potential.
With 70% of the school day reportedly being sedentary and over half of children not meeting physical activity recommendations, perhaps that is why we are seeing children who perhaps are not flourishing in all areas of the info graphic above.
Perhaps active lessons can be the answer – making the school day more active without asking teachers to do additional tasks – and at the same time as developing mental health, instilling a love of learning and a desire to learn – which will only support attainment
Perhaps one positive to come from Covid, was that it only highlighted more the important role physical activity has on our mental well-being, and as such more and more schools have taken to introducing active lessons.
Importantly, DfE are encouraging this with schools…
Government are encouraging schools to prioritise physical activity…there are well-established links between physical activity, improved mental wellbeing and educational attainment

Vicky Ford, Department for Education
Teach Active work in partnership with Loughborough University and have got conducted research to show active learners are 'significantly' happier. Learn more in this 10 minute short webinar hosted by Professor Lauren Sherar